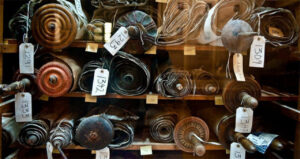 Temple Beth Sholom is proud to have been entrusted with Czech Memorial Scroll #1013 from Louny, Bohemia, due to the efforts of synagogue congregant Les Faiman.
In a brave effort to subvert Nazi annihilation, workers in the Jewish Museum in Prague rescued 1,564 scrolls from destruction in 1942. Handled gently, meticulously restored, and painstakingly preserved, these scrolls stand as a remarkable tribute to the Jewish ability to survive, revive and regenerate. Although many Jewish lives were lost, the continuation of Jewish culture, tradition, and memory lives on through the preservation of these Czech scrolls.
Temple Beth Sholom is one of 1,000 synagogues throughout the world to house a Czech Torah scroll. The presence of this scroll encourages us to engage with our own Judaism, recognize and confront hatred in our own society, and continue our story for future generations.
For more information about the Memorial Scrolls, please visit www.memorialscrollstrust.org.