Israeli Freshwater Fun
When asked to associate "water" with "Israel," most people respond instantly with "the beach!" And indeed, there are beautiful beaches up and down the Mediterranean coast with prominent stops in Ashkelon, Tel Aviv, Herzliya, Netanya, Michmoret, Haifa, and Nahariya. Eilat on the Red Sea is another hot spot for beach lovers, while those in search of spa-style revitalization know that the best choice is not Med, not Red, but Dead as in the Dead Sea. Then there is Lake Kinneret, also known as the Sea of Galilee, from which the Jordan River flows south.
But for those of you who are into streaming, and we don't mean the internet variety, Israel's north is home to marvelous freshwater sources that must be seen to believe such sites exist in Israel. Most of the action is easily accessible from Highway 99 that runs east from Qiryat Shemona up into the Golan Heights. Especially now that summer is approaching, a day spent in Israel's northern water wonderlands will leave you in awe.
Here we feature just three of many spots to visit. The first is the Banias Nature Reserve, located at the foot of Mt. Hermon. Originally dedicated to the Greek god Pan (Banias is the Arabic rendition of Panios as there is no "P" sound in Arabic), this historic site features beautiful walks right through swiftly flowing water, and also Israel's largest waterfall. Hikes through the park also lead to the ruins of Caesarea Philipi, a lesser-known Caesarea compared to the famous Roman city on the Mediterranean, and a still functioning flour mill. There is also a small food stand inside the park where one can purchase baked-on-the-spot Druze pita with labeneh, a thick yogurt spread that rivals humus or babaghanoosh.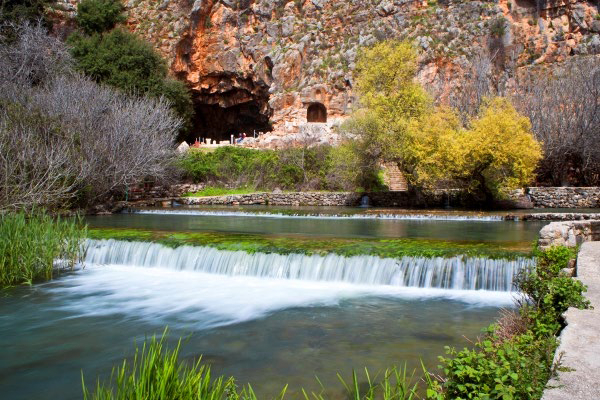 For those of you who want to combine exercise and sightseeing while getting wet, we recommend kayaking Israeli-style on the Hetzbani River. Accessible from HaGoshrim (which is just 15 minutes down Highway 99 from Banias), one can choose various river routes ranging from easy to challenging. The Hetzbani stems from springs located in the Lebanese town of Hasbaiyya as well as the Israeli side of the Alawite town of Ghajar that straddles the Lebanese-Israeli border. An interesting fact is that before the Six Day War, Syria tried to divert water from the Hetzbani to Syria to shut off the feeder flow to the Kinneret and hence Israel's water supply. This plot was discovered by Israel's Man in Damascus, famous spy Eli Cohen, enabling Israel to blow up Syria's water pumping station at Shallal that was at the heart of the Syrian diversion effort. The recent Netflix series "The Spy" starring Sacha Baron Cohen dramatized these events; instead of the Syrians depriving Israel of water, today you can kayak down the Hetzbani to your heart's content.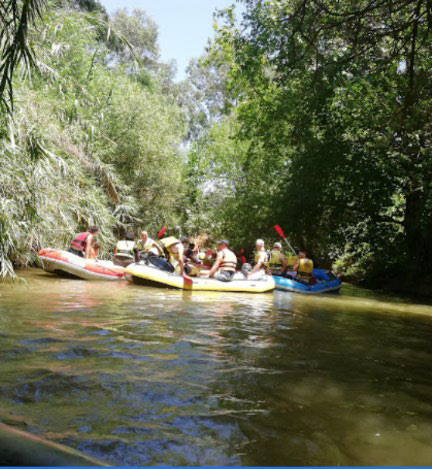 At the end of a day up north, it's time to eat like an Israeli, and given the location the natural destination is Dag al ha Dan, with translates as Fish on the Dan. Guess what's on the menu? Fish (best known for grilled trout)! Guess where it is? On the Dan River, which happily is right across the highway from HaGoshrim where you went kayaking on the Hetzbani! The setting is outside right by the water amidst a grove of trees. It is the perfect way to end a perfect day in the waters of Israel's north.
Eating like an Israeli
When I go to Israel, my daughter always has two requests: leave her enough money so she can survive in my absence, and BRING PITA! Of all the things she could ask for, it's pita. But why – since you can buy pita at Stop & Shop or Shop Rite? It's because pita in Israel is not like anything you can buy in the grocery store locally. Israeli pita is fresh and delicious beyond belief. In Israel, you'll find it at street vendors, fine restaurants and in almost every home.
The secret to Israeli pita's deliciousness is its freshness and lack of preservatives. If you have pita in an Israeli restaurant or even at someone's house, it was almost certainly baked that morning (at MOST, the morning before).
Since I am not a natural in the kitchen (understatement), the first time I made pita and it actually magically puffed up and made the pocket in the middle, I felt like a disciple of Julia Childs. Give this easy-ish version of pita a try and see for yourself! Scoop up some hummus or babaganoosh with it, stuff it with chicken or falafel or Israeli Salad (see February 2021 Israel Matters) or even French Fries as some do in Israel, or just eat it on its own. Yum!
Thanks to Alexandracooks.com for this recipe, which makes 6 pitot.
Ingredients:
2 cups all-purpose flour, plus for rolling it out
1 tsp salt
1 tsp "RapidRise" instant yeast (If you don't have instant yeast, you can use active-dry yeast. Simply sprinkle it over the lukewarm water, and let it stand for 15 minutes)
3/4 cup lukewarm water
1 tsp olive oil, plus a little extra for drizzling)
You'll also need some parchment paper
Directions:
In a large bowl, combine the flour, salt, and RapidRise instant yeast. Add the water and oil. Stir until a dough forms. Use your hands to knead the dough in the bowl until the flour is absorbed and you have a sticky ball. Drizzle a little olive oil over top, turn the dough to coat, cover bowl with a tea towel, and transfer to a warm place to rise for 1.5 hours. (You can preheat your oven for 1 minute; then shut it off to make that warm place).
Heat oven to a REALLY hot 550º. Use a baking/pizza stone if you have it and put that in as you preheat, or a cookie sheet (like I use – heating it for 5 minutes before using).
Cut parchment paper into 6 small pieces about 6-inches square.
Put the dough onto a lightly floured surface and knead for about a minute to form a ball. Divide the dough into 6 equal portions. Knead each dough portion for about 30 seconds and roll into a ball, using flour as needed to prevent sticking, Let the balls rest for 30 minutes.
Flatten one ball, and gently roll out with a rolling pin until you have a 6-inch round — don't roll it too much or you'll roll out the magic that makes the pocket in the middle. 🙂 Transfer each 6-inch round to one of the pieces of parchment paper. Let rest 15 minutes.
With the oven at 550º, put the circles of dough and parchment paper one round at a time, onto the preheated Baking Steel. I bake 2 at a time. Cook for 2-3 minutes. If the pita is lightly golden, it's done. Remove pita, transfer to a tea towel-lined bowl, and close the towel. Repeat with the remaining 3 rounds of pita.
If by any chance you don't eat it all, you can store leftover pita at room temperature in an airtight bag or freeze for up to 3 months. Reheat before eating for maximum yummy-ness..